Questions for Luke
Skype with Luke W.
Thursday, November 1 at 7:30pm
In preparation for our Skype conversation with Luke W post any questions you'd like to ask him in the comments section below.
Final Questions for Luke
Ty
What core features do web apps have access to vs mobile websites? vs native apps?
Brian
Mobile apps seem to have the advantage over mobile sites, with that in mind do you think companies will focus more on developing native apps instead of a mobile website ?
Candice
Design for every kind of web access is changing with extraordinary speed. We know when this happens many things that are useful today will be irrelevant tomorrow. What can we focus on that will keep us current in our web development and will be essential for the longer term?
Hector
What are the first three important things you think of when creating a mobile optimized site from an existing website.
Courtney
How do you address the ever expanding range of screen resolutions among mobile devices and how does it effect the design process (when in the process do you take it into account)?
Lor
What level of interactivity do you foresee for interactivity at point of sale between individual's mobile devices and company's devices. something akin to Bump? to replace physical "club/frequent buyer" cards?
Drew
Where do you see mobile design going in 2013? 2014? 2015?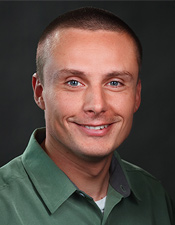 Luke was Co-founder and Chief Product Officer (CPO) of Bagcheck which was acquired by Twitter Inc. just nine months after being launched publicly. Prior to this, Luke was an Entrepreneur-in-residence (EIR) at Benchmark Capital and the Chief Design Architect (VP) at Yahoo! Inc. where he worked on product alignment and forward-thinking integrated customer experiences on the Web, mobile, TV, and beyond.
Luke is the author of three popular Web design books (Mobile First,Web Form Design & Site-Seeing: A Visual Approach to Web Usability) in addition to many articles about digital product design and strategy. He is also a consistently top-rated speaker at conferences and companies around the world, and a Co-founder and former Board member of the Interaction Design Association (IxDA).
Previously, Luke was the Lead User Interface Designer of eBay Inc.'s platform team, where he led the strategic design of new consumer products (such as eBay Express and Kijiji) and internal tools and processes. He also founded LukeW Ideation & Design, a product strategy and design consultancy, taught graduate interface design courses at the University of Illinois and worked as a Senior Interface Designer at the National Center for Supercomputing Applications (NCSA), the birthplace of the first popular graphical Web browser, NCSA Mosaic.
Luke's complete resume and recommendations are available on LinkedIn.